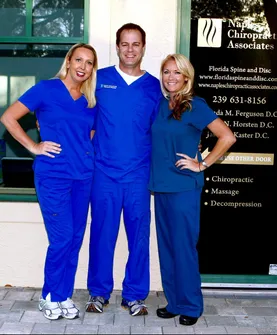 Dr. Amanda Ferguson
Naples Chiropractic Associates is proud to introduce Dr. Amanda Ferguson. Dr Ferguson was born in Los Angeles, CA, and grew up in the small mountain town of Telluride, Colorado. She received a full scholarship to attend Colorado State University–Pueblo. Upon graduation, she moved to Port Orange, Florida to attend Palmer College of Chiropractic. Dr Ferguson was involved in many different clubs and attended many extra educational seminars on postural and scoliosis correction, extremity adjusting, sacro-occipital technique, applied kinesiology, cranial, nutrition, and reflex manipulation. Since graduation, she has continued her studies in Functional Medicine. She has practiced in Colorado, Fort Myers, and Naples.

From a young age, Dr Ferguson knew she was destined to become a Chiropractor. She began seeing a chiropractor at the age of eight for growing pains. Later in adolescence, she was diagnosed with idiopathic scoliosis. The condition sparked her interest in the correction of scoliosis through chiropractic care. From the personal experience with her conditions, Dr Ferguson is determined to help people understand the many benefits that chiropractic care can offer. She hopes to create a pro-active patient, which will understand health is a condition of wholeness in which the body/mind functions at peak performance chemically, physically, and mentally/emotionally, as a triune in perfect harmony. She looks forward to helping many people in their journey of health. Her dedication and compassion draws patients from all over Southwest Florida.
---
Dr. Tanya Horsten
Dr. Tanya Horsten has proudly been in practice in Southwest Florida for 24 years. She is a third generation doctor. She is a graduate of Life university in Marietta, Georgia. She has a bachelor of science degree in Biology with a concentration in sports health science from Marist College. While, at Marist College, she served 4 on the sports medicine staff and was appointed head student athletic trainer. During her time in the sports medicine department, she earned extensive knowledge in the care prevention and rehabilitation of sports injuries.
Due to her sports medicine background she thoroughly enjoys taking care of golfers, tennis and pickle ball players. Dr. Horsten is a proud member of the FCA & the ACA. She has presided over the Collier County Chiropractic society for the past 7 years.